Remembering Lives Lost to Overdose
Story featured in the Lexington County Chronicle and Dispatch-News.
Black Balloon Day Highlights Substance Use Disorders
Two years ago, Gracie lost her father to substance misuse.
Twenty years ago, Roxanne lost her sister to an overdose.
Last Saturday, they met for the first time at LRADAC's Black Balloon Day.
The LRADAC Prevention Team and volunteers organized the event to remember loved ones who were lost to overdose.
Members of the community were invited to write the names of loved ones they lost on a biodegradable, environmentally friendly black balloon and release it into the sky.
As Roxanne let go of the balloon in her sister's memory, Gracie walked over and held on to Roxanne in a spontaneous moment of shared grief and remembrance of the loved ones they lost.
Gracie even donated $10 of her own money to the LRADAC Foundation to help fund recovery assistance for those unable to pay for services on their own.
Every day LRADAC helps individuals, their families and communities find their own pathways to recovery. Although this was our first year observing Black Balloon Day, Roxanne and Gracie reminded us why it won't be our last.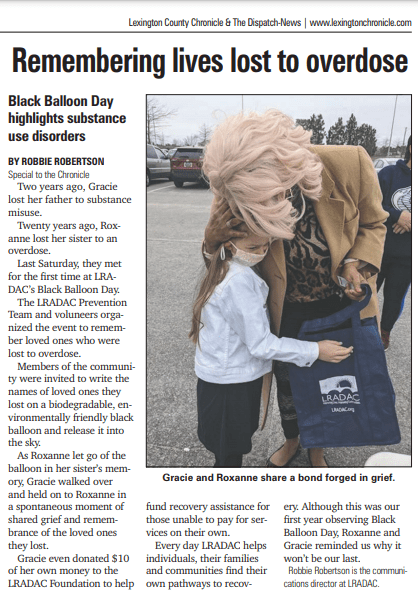 LRADAC is the designated alcohol abuse and drug abuse authority for Lexington and Richland Counties of South Carolina. The public, not-for-profit agency offers a wide array of prevention, intervention and treatment programs in locations convenient to residents of both counties. The agency has a budget of approximately $10 million and serves more than 5,000 clients per year.