LRADAC named as one of South Carolina's Top Workplaces for 2021; President and CEO Gayle Aycock also recognized with special Leadership Award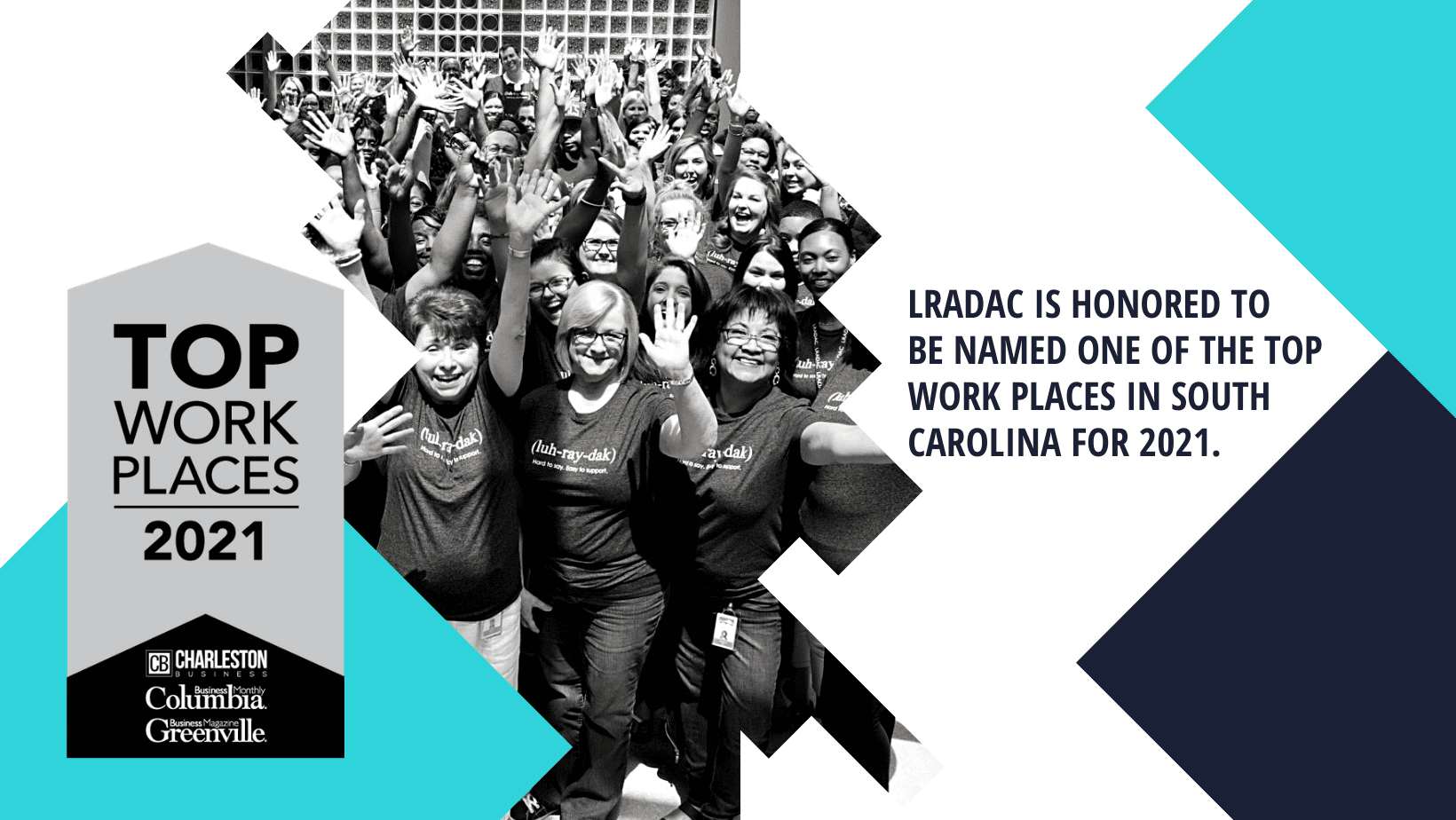 Columbia, SC – LRADAC, the designated substance misuse authority for Lexington and Richland Counties, has been awarded a Top Workplaces 2021 honor by the Top Workplaces organization. The Top Workplaces list is based solely on employee feedback gathered through a third-party survey administered by employee engagement technology partner Energage, LLC. The anonymous survey uniquely measures 15 culture drivers that are critical to the success of any organization: including alignment, execution, and connection, just to name a few. In addition to being named a Top Workplace, LRADAC's CEO and President Gayle Aycock was also recognized with a special Leadership Award.
"Being named one of South Carolina's Top Workplaces is one of the most meaningful honors any organization can receive because it is based solely on input from our employees," said Gayle Aycock, President and CEO of LRADAC. "With such a high percentage of our staff participating in the survey, it demonstrated an incredible level of employee engagement. I was equally thrilled to receive the Leadership Award which, I think, speaks to the high caliber of the people who work alongside me. We were thrilled that so many of our employees took the time to offer their valuable input, ideas, and recommendations about LRADAC and how we operate as an employer. This not only showed how engaged LRADAC staff is but also how dedicated they are to our shared mission of helping individuals, families, and communities on their pathway to recovery."
"During this very challenging time, Top Workplaces has proven to be a beacon of light for organizations, as well as a sign of resiliency and strong business performance," said Eric Rubino, Energage CEO. "When you give your employees a voice, you come together to navigate challenges and shape your path forward. Top Workplaces draw on real-time insights into what works best for their organization, so they can make informed decisions that have a positive impact on their people and their business."
To learn more about LRADAC and view any open employment positions, visit www.lradac.org.
LRADAC is the designated alcohol abuse and drug abuse authority for Lexington and Richland Counties of South Carolina. The public, not-for-profit agency offers a wide array of prevention, intervention and treatment programs in locations convenient to residents of both counties. The agency has a budget of approximately $10 million and serves more than 5,000 clients per year.